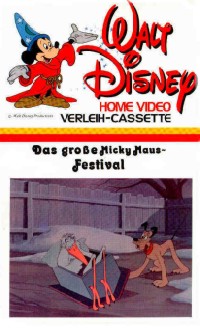 GROSSE ABBILDUNG © DISNEY






DAS GROSSE MICKY MAUS FESTIVAL
ANFANG 80ER (OHNE VORSPANN / ORIGINALFASSUNG, FILM 7: DT. SYNCHRO)


Mickey Down Under (1948, MM/P)
The Big Wash (1948, G)
Cold Storage (1951, P)
Chip an' Dale (1947, DD/CnD)
Pluto's Blue Note (1947, P)
Dragon Around (1954, DD/CnD)
The Lone Chipmunks (1954, CnD)
Donald Duck and the Gorilla (1944, DD)

Info: Im "Der Donaldist 58" mit anderem Inhalt angegeben. Möglicherweise existieren zwei Videos unter diesem Titel?
(DD and the Gorilla, Chip an' Dale, Mickey down under, Puss Cafe, Morris the Midget Moose, Duck Pimples, Hold that Pose, Sheep Dog)



Covertext: Micky Maus, Donald Duck, Pluto, Goofy und all die anderen Helden aus Walt Disney's Zeichenstift sind angetreten, ihr Publikum via Videocassette das Lachen zu lehren! Diese wohl schönste Auswahl von Disney-Cartoons aus vielen hundert Filmen, ist ein wahres "muß" für jeden Walt Disney-Freund. Folgen Sie Micky Maus und seinen Spießgesellen nach Entenhausen, wo es so viele lustige Abenteuer zu bestehen gibt... Sie werden Tränen lachen!