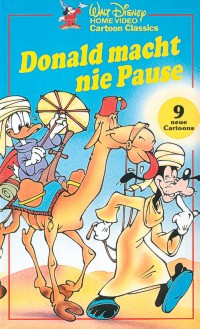 GROSSE ABBILDUNG
© DISNEY






DONALD MACHT NIE PAUSE
(OHNE VORSPANN / DT. SYNCHRO)


Crazy with the Heat (1947, DD&G)
Lambert the sheepish Lion (1952)
Drip Dippy Donald (1948, DD)
The Pelican and the Snipe (1944)
Grin and Bear it (1954, DD)
The Fox Hunt (1938, DD&G/MM)
The Greener Yard (1949, DD)
Mr. Mouse takes a Trip (1940, MM/P)
Paul Bunyan (1958)



Covertext: "Das war die abenteuerlichste Reise meines Lebens" gerät Donald ins Schwärmen. Quer durch die Wüste auf dem Rücken eines Kamels und allen voran Sportsfreund Goofy als Kamel-Treiber!
Außerdem sehen Sie Cartoons mit den beliebten Stars Lambert, dem Löwen, mit dem Pelikan Monte, und Humphrey, dem Bären und vielen Anderen.
Ein zeitloses Vergnügen!